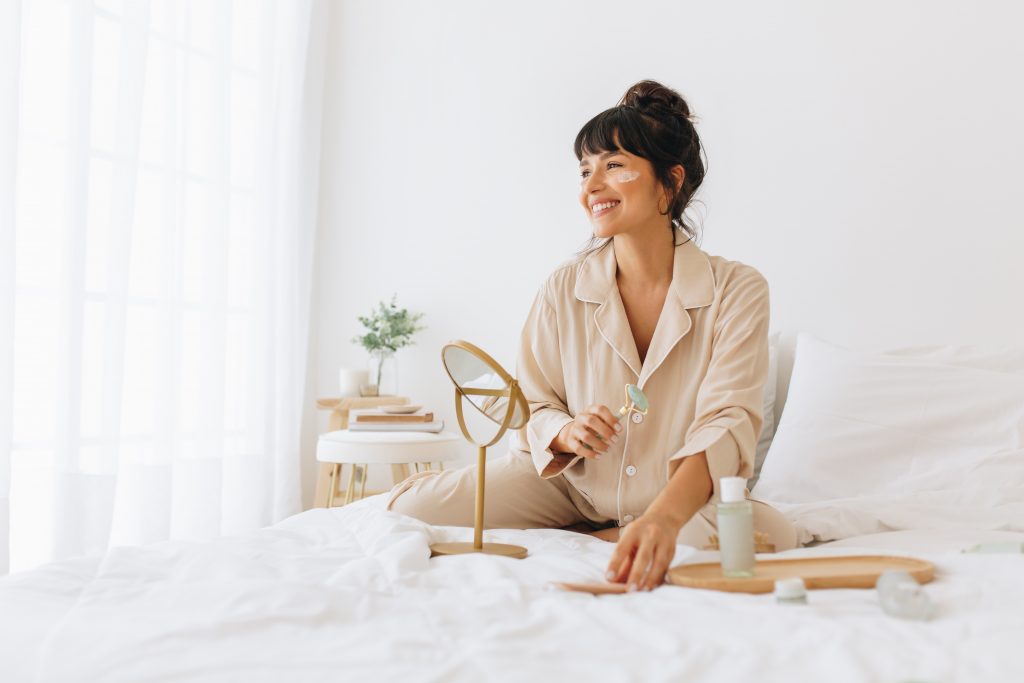 You've had a hectic day,
Every inch of your body is aching,
Tons of household chores left,
Obviously, some 'Me Time' too,
Finally the most crucial one, something you love the most– your comfy bed & lots of sleep. We totally get you, and trust us; we are all the same. With so much exhaustion, who has the time for nighttime skincare, right? We wish we could high five with a loud 'yes', but we can't. As necessary it is to care for your skin during the daytime, a nighttime skincare routine is equally imperative. Your efforts, despite the exhaustion, will take you a step closer towards healthy and beautiful skin (one that doesn't really need filters).
Still, Wondering if You Need a Nighttime Skincare Routine?
The only way to achieve healthy skin is to have daytime as well as a nighttime skincare routine. Your skin is a hero, bravely battling factors such as dirt, pollution and sunlight with the help of your morning skincare routine. On the other hand, the increased blood flow to the cells at night aids in healing your body. It gets into recovery mode, trying to fix the damage caused throughout the day.
Time to Break the Myth
Myth
There are several steps in this routine, almost like an endless list.
Truth
A lot of people hate skincare, believing that it's time taking. The truth is you can always customise your skincare routine according to your convenience. You can also talk to a dermatologist who can help create a personalised skincare routine.
A Simple Nighttime Skincare Routine that You Can Follow.
Let's begin our 'Wake Up Beautiful' Series right away!!
#1
Start Nighttime Skincare by Removing Make-Up
If you think not wearing make-up gives you an excuse to skip this step, think again. Even if you do not apply make-up every day, almost all of us touch our faces. It allows dirt and bacteria to settle on your skin. Use a gentle makeup remover to eliminate all traces of products and keep your skin moisturised.
CureSkin Tip
Look for a make-up remover that can take off oil-based make-up as well.
#2
Skincare Routine Should Include Cleansing Too
Next step is to cleanse your skin while performing nighttime skincare routine also starts with with cleansing your skin. Normal, dry, combination or oily, every skin type needs to go through cleansing. Select one that's mild and helps retain the natural oil in your skin.
#3
Apply Serum to Elevate Skincare routine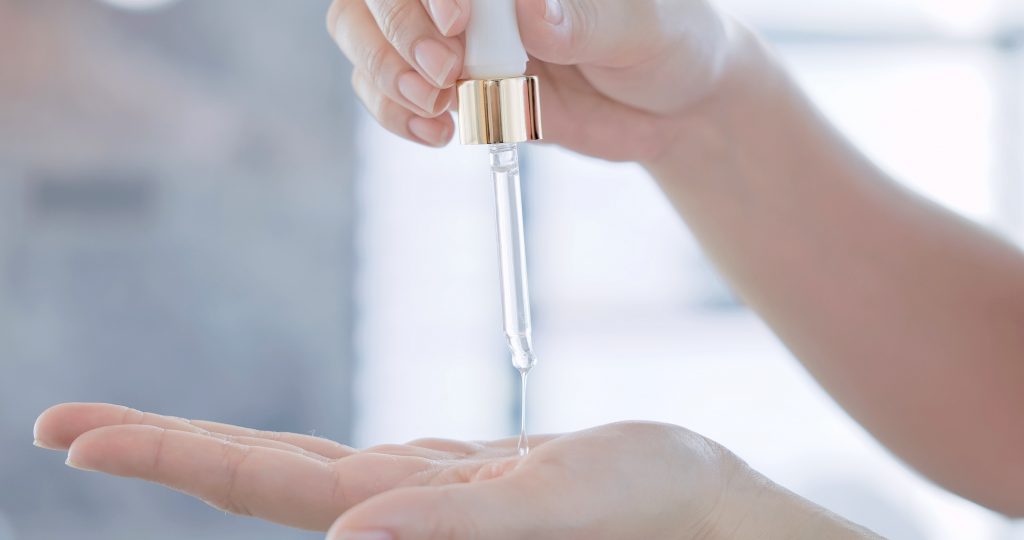 Serums are potent and precisely what you need to deal with specific skin issues. However, with several varieties available, be careful while choosing one for yourself. Always look for ingredients that are suitable for you instead of following the current trends and hype.
#4
Moisturise Your Skin
Moisturisers help seal all the goodness that you have put into your skin. While buying night creams, look for products with ingredients that keep your pores clean and revitalise your skin.
CureSkin Tip
Choose products with hyaluronic acid or ceramides to retain moisture in your skin.
#5
Eye Creams & Lip Balms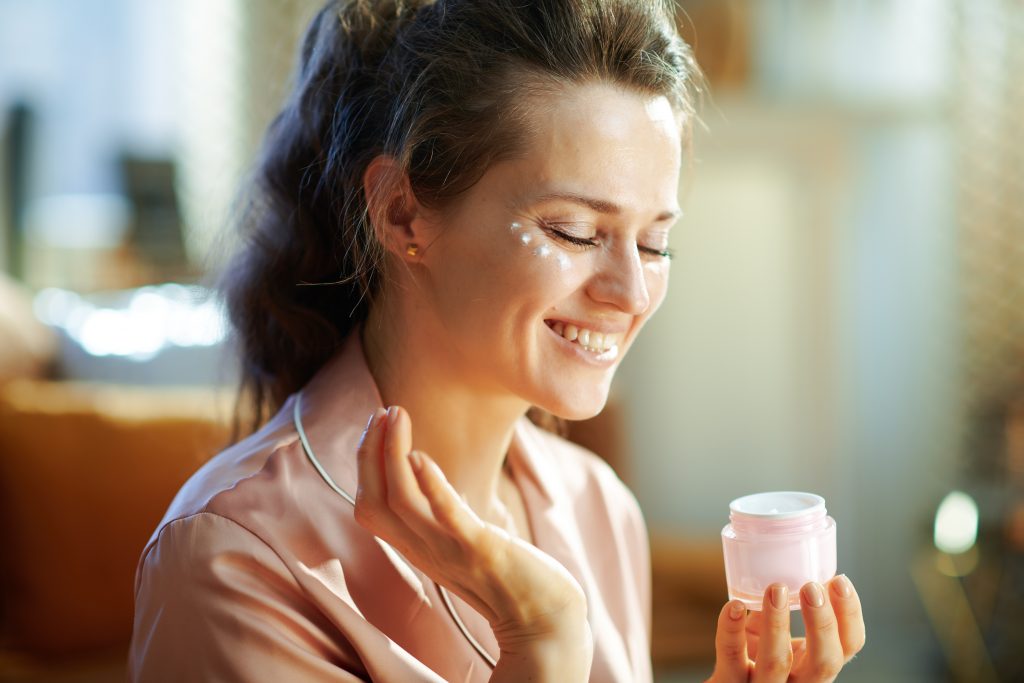 The area around your eyes ages the fastest as it is extremely thin and delicate. Therefore, it requires extra care and protection.
Lips are often the most ignored when it comes to skincare. However, they also need care and nourishment. After removing lipstick, apply a lip balm to keep them moisturised. You can include both, eye creams and lip balms as part of your nighttime skincare routine to reap benefits.
CureSkin Tip
Select products with peptides that promote hydration and prevent signs of ageing, such as wrinkles and fine lines.
An Optional Step as Part of Nighttime Skincare Routine
#6
Facial Masks
For those who seek a little extra pampering, consider using a mask once or twice a week after you are done cleansing your skin. Later, you can continue with the other routine steps that are part of your night skincare. For example, people with oily skin can use a clay mask, whereas those with dry skin should choose a hydrating mask. The idea is to select the one meant for your skin type.
CureSkin Tip
Do not keep your mask for too long, as it can dry out your skin.
Good Night, Gute Nacht & God Natt
The skin goes through a lot throughout the day and deserves some love and care at night. We are so into daytime skincare that most of us hardly bother about nighttime skincare routine. If you wish to achieve soft, smooth and healthy skin, you will have to put some additional effort to get there. Stick to a basic nighttime skincare routine that is practical to follow daily.
FAQs
When should you do your nighttime skincare routine?
Many people face this issue that if they wait until right before bed, the chances of skipping the nighttime routine tend to increase. Therefore, it's better to start the steps as soon as you reach home or once you finish your work. That way, you'll cover all the steps and won't miss anything.
2. Is it okay to apply face oil at night?
You can apply face oil at night as the last step of your nighttime skincare routine. Though, you have to be sure that you aren't allergic to the oil or any other ingredients in it.
3. What if you skip nighttime skincare for a night?
It's good to maintain a regular nighttime skincare routine. However, it's human to not feel like doing nighttime skincare at times. Skincare should make you feel happy and rejuvenated, not feel like a task.